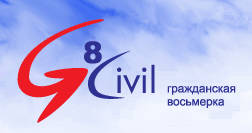 I CARE - Special Report
Civil G8 Forum, Moscow, Russian Federation - July 3-4, 2006
Day one
Editorial
ICARE was invited by the Russian NGOs, together with many other International organizations to join in a Civil Society forum preceding the G8 summit in St. Petersburg next month. For us an excellent opportunity to see for ourselves how things are here and to report on this forum on ICARE. Paid for by President Putin's office, in an uncharacteristic show of generosity. Actually, Putin is paying the expenses of all foreign NGOs. Being the acting head of the Council of Europe, the Russian Federation seems to say; 'look how democratic and open we are, we're even paying for foreign NGOs to come over here'.

Mrs. Ella Pamfilova , coordinator of the National working group 'Civil G8/Russian Federation, who organized the event in close cooperation with Russian Civil society, opened the plenary session of the first day of the Civil G8 forum. She stressed the importance of the Civil society, stating that pluralism is one of the key issues in this world today. Speakers of the 'G8 research group', (a Canadian organization that follows and analyses the impact of G8 meetings) and others gave their view on the broad range of subjects that will be covered during the 2-day forum. Tomorrow Mr. Putin, president of the Russian Federation, will address the meeting, which takes place in the World Trade Center in Moscow.

Everybody is staying in the same hotel; attached to the WTC conference center, so there is really no need to experience the true Russia once you've past immigration at the airport (Fill out the same form 3 times!). The center piece in the hotel lobby is a humongous rooster that flaps it's wings every halve hour and crows. Not a lot of anti-globalists here. Maybe since Putin is accommodating their protests by giving them a stadium to hold events during the G8-proper in St. Petersburg. The acid test for the both the Putin administration and the activists; Will Stones Be thrown and Will Riot Police Do their Worst.




The lowdown; 'Civil G8 is your opportunity to discuss global problems' the glossy conference map claims. Reality is that there are many NGOs here that deal with lots of issues, not necessarily Russian ones. The situation in Russia being like it is, Human Rights and anything related is on the top of the NGO-list and this is the subtext; the Russian NGOs see the civil G8 as an opportunity to do their own thing, paid by a government that over the last few years have been out to get rid of civil society altogether. Of course for ICARE too the sessions on Human Rights are most important. What to expect? No idea. Let's wait and see how this develops over today and tomorrow. Our friends from SOVA Center, DEMOS and others have spent a lot of time and energy to organize the HR sessions.



Reports on the HR sessions
Todays sessions were:


Counter-terrorism
Extremism, Migration, racism & Xenophobia
Public control over Law enforcement bodies and penitentiary.


"Public control over law enforcement bodies and penitentiary"
Chaired by Yuri Dziblatze

Although the discussion was supposed to be on the global approach of relation government/civil society (nice and safe, let's talk about what is happening somewhere else, not what is happening in Russia) it was very pleasing that, due to the large amount of Russian NGOs present the discussion quickly went to Russian state interference in civil society. Some of it might be considered unconstitutional; for sure it would be that in other countries. That much became very clear after some Russian representatives spoke about ever changing requirements imposed by the state. The most surprising about the discussion was the contribution of a Canadian lawyer who responded to the problems as were put forward by Russians by stating: "in Canada this doesn't work like that at all, if you want to start an organization you just do it. The paperwork takes about one hour".




"Counter-terrorism"
Chaired by Tanya Lokshina

This session mainly dealt with the erosion of Human and civil rights as a direct effect of anti-terrorism measures, one of the conclusions being that those rights are only eroding because we allow the states to get away with it. In the minds of most people, the state looks out for the interest of all and can be trusted; what's more, security should come first. Bizarre moment; one of the speakers, Antoine Bernard of FIDH sung the praise of the new UN Human Rights Council. Since that particular body has, in its first meeting ever last week only continued on the bad reputation of the infamous UN Human Rights Commission by populating itself with human rights violators and bringing out inane and partisan statements, that was ummm…quite strange.

The report on the "Extremism, Migration, racism & Xenophobia" session will be published tomorrow. Suffice to say that it was a very complicated session with lots of input from a host of national and international NGOs.

Tomorrow the session-groups will all sit together to produce a coherent set of recommendations to present to the plenary. Says one of the moderators cynically; "it's going to be pretty hard to come up with things that Putin might actually like'. In our considered opinion one of the most important recommendations should be that at the next G8 the several aspects of Human Rights deserve a higher place on the agenda.





Tidbits: "Just another day in the Soviet Union"
The first day ended with a reception in the lobby of the hotel/conference center. Listening in on bits of conversation it became abundantly clear that the Russian Federation has a problem that has to be solved before any of the G8 topics can be properly dealt with. When the Soviet Union fell apart in the late eighties some things changed for the better, e.g. it was still difficult to travel abroad but at least it was possible. Other things didn't change at all; the draconian administrative hassles that accompany even the simplest actions, like buying a WIFI value card. This involves, even if you pay in cash, showing your ID and signing a form. There's a lot more to be said about this symptom of a really deeper problem. Tomorrow! This morning near the elevator we saw a sign saying that 'The African caucus will meet at 8.30'. Flashback to Durban! Haven't been able to locate them up till now.





Clueless quote of the day:*
"In Canada this doesn't work like that at all, if you want to start an organization you just do it. The paperwork takes about one hour".





*People always think we make up the quotes of the day. No way, we never have to. If you sit in meetings all day and hang around and talk to people, somebody will produce something hilarious or stupid. We just pick one and discard the rest for a multitude of reasons. Like today's quotes from two female officials working for an Intergovernmental body; "Are there any nice man around" and " You should see my in-box". Catch our drift?





More tomorrow,





Suzette & Ronald.





Official Civil G8 website.



Day two
Editorial
This morning the Human Rights NGOs worked on the final draft recommendations for the plenary. We'll skip the report on The report on the "Extremism, Migration, racism & Xenophobia" session from yesterday. Hey, we're here only with the two of us, there's only so much we can cover.

The participants of yesterday's 3 round table sessions concerning human rights came together in a joint session. One Russian and one non-Russian delegate were elected to present the recommendations from the human right group to president Putin this afternoon. The meeting broke up for 30 minutes in order to give yesterday's moderators and reporters the opportunity to finish the draft recommendations. When the meeting resumed the recommendations were projected on a big screen and participants made remarks which were incorporated in the document titled: Short Putin - xeno.doc (!) which is going to be read out and presented to Putin. The longer document to be given to the G8 as a whole is in the final draft stage, to be discussed for approval later today.
President Putin arrived at 12. Before that the security was beefed-up enormously which resulted in long lines before the checkpoint at the main plenary hall.
Tanya Loskhina and Nancy Alexander, who amongst other things urged the presidency to take onboard HR as an important issue for the G8 2007 in Germany, presented the highlights of the recommendations of the Human Rights sessions;

We urge that the human right of migrants and refugees are respected and the system of asylum is strengthened. We remind states of their responsibility to protect refugees and internally displaced persons and call on the international community to provide assistance in those cases where the rights of IDPs are not upheld by governments, as this cannot be considered as an exclusively domestic issue.

We urge that states actively counteract racism, xenophobia and discrimination, whilst ensuring that these measures do not infringe internationally recognized norms of freedom of conscience and expression or be invoked to inhibit the democratic process.

We urge states to respect the principle of responsibility sharing in the provision of asylum and act to ensure high quality protection. Measures that allow states to shift their responsibilities to other states should be abolished.

Civil Forum participants call on governments recognize the competence and experience of NGOs in the protection of refugees, asylum seekers and migrants in the fight against racism and xenophobia. We urge states to ensure that non-governmental organizations have the freedom of action required to work effectively and independently




President Putin came in shortly after that and congratulated the NGOs on their work. He stated that he was happy that, 'to a certain extent' the recommendations made by the NGOs were in line with the recommendations of the G8 itself. The phrase 'to a certain extent' he repeated a number of times. He also made it very clear that he could not live with a number of other things and would ignore those. He reacted on Yuri Dzibladze's remarks about the difficulties for NGOs by stating that he would consider making changes to the recently instated 'NGO law' that curbs a number of rights of NGOs. He did not go into detail on Human Rights, but he claimed that it were 'the other countries' within the G8 who have problems giving the issue some importance, and that 'nobody wants to talk about his own country'. Mr. Putin specifically addressed the issue of nuclear energy. "There are people who are against that because of the waste problem etcetera, and I certainly agree that we should also look at other sources of energy'. At that moment a group of activists stood up, wearing black t-shirts which on each a big white letters, together forming the words (in Russian) 'No to Nuclear power'. The security staff immediately jumped them but where stopped by Putin, who patronizingly said that 'they were allowed to give their opinion', they could stand there for the rest of the meeting for all he cared, after all this was 'democracy and freedom of speech'. Someone who's a democrat in name only is now using the old system of repressive tolerance, at times very popular in more democratic countries.




Tanya Lokshina working under the plenary stage floor, looking for some words that Putin lost.
Afternoon
Whipping the final recommendations to the G8 into shape, that's what the Human Rights NGOs spent all afternoon on. We received them just now, so here they are, this goes to the G8 summit in St. Petersburg!
'Suggestions for draft-reccommendations to the G8' (Word document)
Round table "Independent public oversight of law enforcement bodies and the penitentiary system" - Statement to the participants of the G8 Forum (Word document)
Roundtable "Counter-terrorism, Armed Conflicts and Human Rights" (Civil G8 Forum) (Word document)
Video-byte: Human Rights activists in Russia are being murdered.
Lately reports on human rights workers and anti-racists being murdered in the Russian Federation has come to our attention. How bad the situation was we did not know up till know. There is very little to nothing being done by the state and the police and a number of people are being targeted and need to go in hiding or need asylum abroad. Both not an easy thing. Funds are needed for this desperately. ICARE will report on this urgent issue more in-depth soon. In the meantime have a look at this video-interview with Sasha Koulaeva (Window Media Player).
The day ended again with a reception. The official Civil G8 is over, but tomorrow the Russian NGOs, making use of the fact that everybody is here, will hold a real NGO event at another location. We're invited, so we'll go there and report on it. More tomorrow!
Quote of the day:
'We know they are lying, we don't know how many of them are lying and on which levels they're lying'.
Thanks to the tireless Russian NGO advocates, working under difficult circumstances, always keeping their spirits up. Special thanks to our friends Tanya Lokshina, Yuri Dzibladze And Alxander Verkhovskiy, who put a lot of work in making all this happen and who went out of their way to help us and accommodate us.
Suzette & Ronald.
Official Civil G8 website.