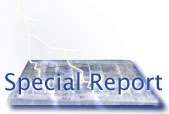 I CARE - Special Report
March in Antwerp
Friday May 26th, 2006


Even though the weather was cold and rainy, between 15.000 and 20.000 people attended the silent march that took place in the city of Antwerp, last Friday May 26th . As an expression of support to the families of Mohamed Bouazza and the victims of the brutal and racist attack of last Thursday, Luna Drowart, Oulemata Niangadou en Songül Koç and also as a serene protest against all forms of violence in society and a plea for a tolerant city.














Participants did not only come from Antwerp, they came from everywhere within Belgium and from abroad, representing all ages and communities. Almost everybody managed to wear something white, as requested by the organisers, even with the weather being as it was.
















In first row, children carried banners saying 'Stop racism, diversity is reality' and 'The sorrow is of A'. Then the family members of the victims, all dressed in white, led the march and addressed the crowd at the end of the march.
















This initiative was supported by the city council, organisations of the different communities, civil society, the shopkeepers' association and many others.