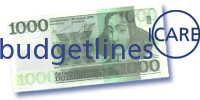 Archived website
We regret to inform you that the co-founders of ICARE.TO, Suzette Bronkhorst and Ronald Eissens, both passed away in 2021.

You can visit the stichtingmagenta.nl website for more information.
Budgetlines
Getting money for your organisation or projects is turning into an art. Where to find donors and sponsors? Are there budgetlines for what we want to do? On this page you will find the most current European budgetlines. Take note, this is a service we offer to you, we are not responsible for the budgetlines or the requirements!
---
GENERAL
Guide to Funding and Participation in European Union Programmes in the area of the Soros foundations network's activities for Non-Governmental Organizations in Central and Eastern Europe and the Newly Independent States. Prepared by the Open Society Institute-Brussels. Updated version August 2001 http://www.osi.hu/brussels/guide2001/funding_index.html
ANTIRACISM
Community Action Programme to combat discrimination 2001-2006 Calls for Proposals and Tenders.
http://europa.eu.int/comm/employment_social/fundamri/prog/calls_en.htm
ROMA & SINTI
ROMANI PUBLICATIONS PROJECT call for proposals

Next Page Foundation announces its new project for support of printed and web-publications in Romani language. The project will provide financial support for the following types of publications:
1. Translations or original works on Romani issues such as history, Romani movement, contemporary social issues;
2. Publications of oral traditions of the Roma (oral history, tales, etc.). Priority will be given to projects which generate additional social activities around such publications such as involving Roma in collecting and recording oral traditions
3. Educational materials (translated or original) for all levels of education, including attractive children's' books accompanied by audio or video materials
4. Fiction and poetry written by Roma
The call is open throughout the year.

Next Page Foundation, being a spin-off of Open Society Institute - Budapest, manages translations' support projects in the countries of Central and Eastern Europe and the former Soviet Union. OSI has been supporting translations of books on Roma issues since 1999 and 24 titles in 10 countries have received grants. Roma 2002 competition will support titles written/translated in Roma language.

Please, find attached the budget form and a detailed announcement for the competition in English and Romani, which is also available at: www.npage.org For additional information, please, do not hesitate to write to: info@npage.org

Budgetline-english
Budgetline-Romani
Projectinfo
JOURNALISM, FREE PRESS
Alfred Friendly Press Fellowships - Deadline February 1 - annually
Six-month working fellowships for non-U.S. print journalists from developing and transitional countries with an emerging free press.
Applicants must have an excellent command of written and spoken English, early to mid-career status, with at least three years experience as a print journalist, a demonstrated commitment to a career in journalism in the home country, and current employment as a journalist with an independent print media organization in a developing or transitional country. A typical AFPF Fellow is approximately 29 years old with six years of professional print journalism experience.
The Fellowship covers all costs of program-related international and domestic U.S. travel, and provides a monthly stipend. The program begins in June with a two-week orientation seminar in Washington followed by five-month deployment to U.S. host newspapers and magazines.
Alfred Friendly Press
2000 L Street N.W., Suite 200
Washington, DC 20036-4997
Tel: (202) 416-1691; Fax: (202) 416-1695
For more information: http://www.comminit.com/Fellowships/sld-3243.html
email: afpf@aol.com
YOUTH
Funding opportunities for youth projects on human rights education
1. Introduction
Financial assistance in support of local pilot projects is important to the
Youth Programme on Human Rights Education because it will allow for new
initiatives to be set up and will motivate supporting local NGOs and groups
to undertake action related to human rights education with young people. By
funding pilot projects on human rights education through the European Youth
Foundation For further information concerning the European Youth
Foundation see http://www.coe.int/youth , the Directorate of Youth and
Sport seeks to actively contribute to the inclusion of human rights
education in youth work practice and to encourage innovative practices and
partnerships, both in formal and in non-formal education contexts.
The pilot projects will allow for a more visible and direct impact of the
programme at local level. They are a necessary complement to the rest of
the youth programme on human rights education and to the other activities
of the Directorate of Youth and Sport of the Council of Europe.
Similarly, the inclusion of pilot projects in the European programme may
serve to give them greater visibility and recognition, as well as
facilitating the development of networks and of opportunities to share
expertise and experiences. This will be done by means of the Directorate of
Youth and Sport publications and web sites. This may be completed by an
evaluation meeting and a publication with examples of good practice in
2003. The evaluation and follow-up of the three-year youth programme on
human rights education will consider to what extent support to pilot
projects beyond 2002 may be continued.
This financial support to pilot projects should be seen as exceptional and
limited to the duration of the programme. The European funding can not
replace the necessary local and/or national co-funding (in money or in
kind). In this context, the assessment of applications will consider also
the feasibility of the projects.
Priority for funding will be given to projects which would otherwise be
difficult to start up. Funding will not be given to projects that have
already taken place.
The funding of pilot projects is also made possible thanks to voluntary
contributions of Member States of the European Youth Foundation.
2. Criteria
In order to qualify for support, projects must:
1. be directly related to young people and to human rights education or
to a specific theme addressed by the programme;
2. be prepared, run and managed by a local association, institution or
youth group acting directly with children, young people or a specific
target group of the programme;
3. have a clear educational or awareness-raising function;
4. concern primarily participants under 30 years of age;
5. have a participatory approach, from the conception to the evaluation;
6. integrate intercultural learning in its educational approach;
7. have an innovative character (in terms of methodology, target groups
addressed, etc.)
8. be open to other partners of the youth programme on human rights
education and foresee using the resources generated through the programme
(e.g. the Manual on Human Rights Education);
9. have a clear potential local impact while being open to European
networks;
10. have a European dimension, either by involving more than one country,
and/or by taking into consideration the European context;
11. follow the basic educational principles of the Council of Europe's
youth sector;
12. be realised betweenJanuary March 2003 andDecember 2002 March 2004.
2. Levels of support
Selected projects can be funded up to a maximum of 7 600 €.
3. Payment of grants
The administration of grants will be made through the European Youth
Foundation and according to its standard practice: a maximum of 80% of the
grant will be paid following the confirmation of acceptance of the grant;
the remaining balance will be paid according to the rules of the European
Youth Foundation upon reception and approval of the report and final
accounts of the project.
4. Deadlines and applications
All projects must be implemented betweenJanuary March 2003 andDecember
2002 March 2004. The application forms must be submitted to the European
Youth Foundation by one of the following deadlines:1 November 2001
a) 1 February 2003
b) 1 May 2003
c) July 20021 October 2003
The decision shall be taken within two to three months of each deadline.
5. Reporting
Projects being allocated financial support are to present a report within 2
months of the completion of the project. This report shall include:
a) a complete financial report with proofs of expenditure,
b) a project report about the outcomes and dynamics of the project
according to the criteria listed above;
c) An indication of which members of the public will be reached through
the project and, where appropriate, a list of participants in the project,
including name, country of residence, nationality, age and sex;
d) Press cuttings, photographs and other examples of the achievements or
results of the project, preferably in electronic version.
6. Procedure for applications, assessment and decision-making on the
projects
The applications for funding will be assessed by the European Youth
Foundation (EFY) in consultation with the Steering Group of the Youth
Programme on Human Rights Education. The secretariat of the EYF will give a
recommendation to the Programming Committee of the European Youth Centres
and European Youth Foundation, responsible for the decisions on the grants.
All applications must be submitted according to the application form
enclosed, typed in English or in French.
7. Further information:
Further information is available on the Youth Programme on Human Rights
Education web site: http://www.coe.int/hre and on the European Youth Centre
Budapest web site: http://eycb.coe.int. Information about other funding
possibilities through the European Youth Foundation and through the
Solidarity Fund for Youth Mobility is available on the Internet at:
For specific enquiries about the pilot projects on human rights education,
please contact:
European Youth Centre Budapest
Zivatar utca 1-3
H-1024 BUDAPEST, Hungary
Tel: + 36 1 212 40 78
Fax. + 36 1 212 40 76
Email : eycb.secretariat@coe.int
(Embedded image moved to file: pic08528.pcx)
(Embedded image moved to file: pic17709.pcx)
PILOT PROJECTS
on Human Rights Education
1. Name of the applicant organisation(s) Please supply brief updated
information on the organisation(s) separately, including main aims,
structure, activities, status, members, etc.).
2. Address(es) of the organisation(s) (including, fax, e-mail and web
site, if available)
3. Title of the project
4. Duration of the project (please give start and end dates of the
project)
5. Main venue/s (where will the project take place?):
6. Description of the project - Please provide clear and concise
information about:
a) the nature of the project
b) its aims and objectives
c) the principal elements of the programme
d) calendar and methodology
e) what the innovative nature of the project will be
7. Target group
a) To whom is the project addressed?
b) What will be the role of young people in the project?
8. Participants
Please provide details about:
a) The total number of participants involved or public to be reached
b) Their countries of residence and relationship to the organisation(s)
c) Their average age
9. Results
What do you expect to achieve with your project in relation to:
a) Human Rights Education
b) Young people's participation and autonomy
c) Local impact
d) Intercultural learning
e) Networking at European level
10. Follow-up - What follow-up do you envisage for your project?
10. Preparation - How, by whom and when will the project be
prepared?
11. Contacts
a) Name, function, address, telephone, fax and e-mail of the
person in the organisation responsible for this project;
b) names and function of other people involved in the
management of the project:
12. Budget
Please present, using the table below, an estimated detailed and
balanced budget of the total expenses and income of your project,
indicating the amount of the grant requested from the Youth
Programme on Human Rights Education. The budget must be submitted
in Euro (€).