Archived website
We regret to inform you that the co-founders of ICARE.TO, Suzette Bronkhorst and Ronald Eissens, both passed away in 2021.

You can visit the stichtingmagenta.nl website for more information.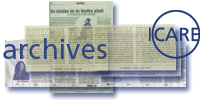 Note: Links on this page may be referring to temporarily unavailable pages. We apologize for the inconvenience.
ICARE Archives - Events
On 23 August 1791, slaves of Santo Domingo (now the Dominican Republic and Haiti) rose up in a rebellion, sparking the first movement towards the abolition of the slave-trade. To promote the remembrance of the Slave Trade and the recognition of the slave uprising against oppression, UNESCO has chosen the date of August 23 for celebration of The International Day for the Remembrance of the Slave Trade and its Abolition. I CARE would like to do reporting on events happening around the world. Please send information on any events to info@icare.to and provide us with the details of your event and the contact person and telephone number for your organization.
read more...