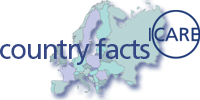 Archived website
We regret to inform you that the co-founders of ICARE.TO, Suzette Bronkhorst and Ronald Eissens, both passed away in 2021.

You can visit the stichtingmagenta.nl website for more information.
[[[ countryfacts ]]]
The Countryfacts-archive is not available. On the travelhelp-page you may find some Maps, Railway information and Travel portals.